Latest from E&P sector of Ukraine: First O&G Licensing Round took place
A remarkable moment for the whole oil&gas industry in Ukraine: three concession blocks (Kharkiv and Poltava regions) have been sold March, 6 through the pioneer online actions.
The total amount paid is record-breaking – over UAH 140 million ($5.1 million) which is way more than the total initial bid for nine out of ten blocks offered by State Geological Service of Ukraine for the First licensing round. 
Three leading domestic gas producers became winners: Burisma Group, DTEK Oil&Gas, Ukrgasvydobuvannya (UGV). Seven blocks had no bids and could be auctioned in the future. 
Second Licensing round includes seven blocks, covering over 1 000 sq. km and will be held on 2 May 2019. The third one is planned to be announced shortly. 
The Ukrainian government had also launched tenders for production sharing agreements (PSA) for 12 onshore blocks, adding that documents for nine of the blocks on total acreage of 11,600 sq km were already approved and that potential investors have until the end of May to place their bids.  
The documents for the remaining three blocks will also have to be approved in the upcoming weeks, together with giant offshore block for nearly 10 000 sq. km in Black Sea shallow water area.
Full details at: www.goukrainenow.com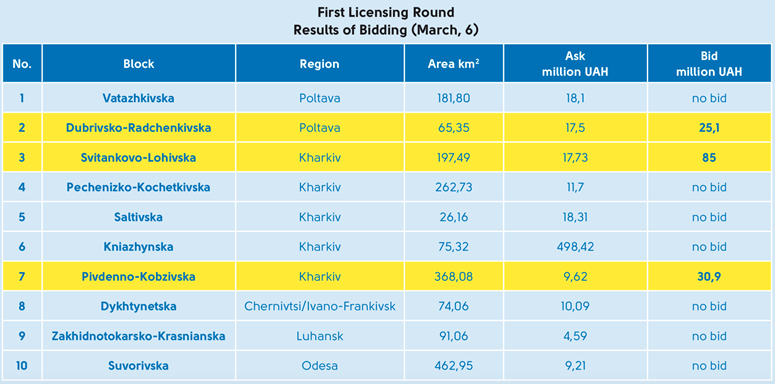 Latest insights: 
LinkedIn ➡️ http://linkedin.com/in/roman-opimakh-23aa6822
Telegram ➡️ https://t.me/RomanOpimakh
Regards,
Roman Opimakh
Executive director
Association of Gas Producers of Ukraine
www.agpu.org.ua